This week we have the honour to present Stina/Ztina as our guest designer. She have done this lovely sketch!
I have made a page based on the sketch. I have used products from the kit that I got from  Hobbyworld, the sponsor of the month, at Veckans Skiss: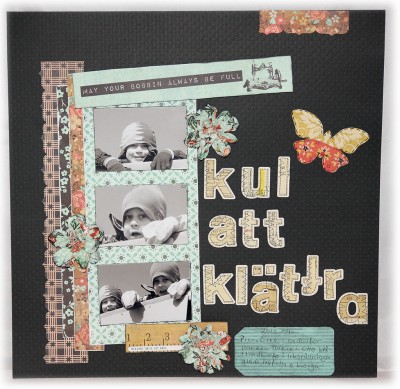 Title: " Climbing is fun"
My boys loves to climb in the jungle gym at the playground. Look at their happy faces!
I love to use black cardstock as base when I use black and white photos. I think it works so well together and the colored paper pops up in a great way!
In have used products from Basic Greys collection "Lucille" that I got from Hobbyworld. Here is my productlist.
Bazzil Basic Chandler Dotted Swiss
Basic Grey "Lucille" – Miniskirt
Basic Grey "Lucille"- Indigo Ink
Basic Grey "Lucille"- Capri
Basic Grey " Lucille" Gather (blommorna som jag gjort själv)
Basic Grey " Lucille" Stickers
Basic Grey "Lucille alfabet
Basic Grey "Lucille" – Shift

Scrapbooking Adhesives – My Stick "
Here is some close ups:
Alphabetstickers from the "Lucille" collection. The theme is sewing and you can see the stitches here:)
I made the flowers by myself with a flowerspunch in three different sizes and water.
A butterfly sticker from the collection!
I really want to see your take at this weeks sketch! Deadline is Monday May the 20th at 23.59 CET time. Read about the rules
here!
Have a nice day!
Hugs!
/Jeanette