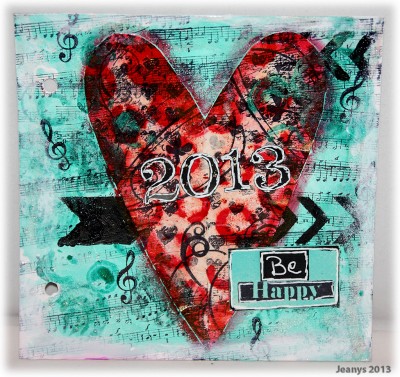 Ziro, together with a couple of other girls has started a blog "Art for myself" in purpose to make an Art journaling over the year with different themes. The blog is open for everyone to create art journaling work within the theme and load them up there. This month the theme is "My thoughts about 2013″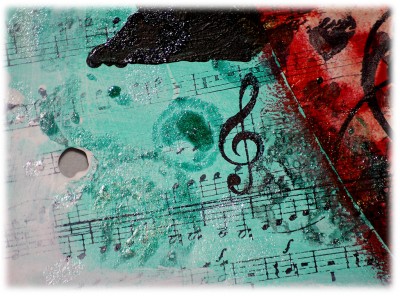 I have covered the background with turqouise acrylic paint, then I put a thin layer of white acrylic paint and swapped carefully over the page with a babywipe before it dry just to get a white transparent layer. Then i used a couple of different stamps, stamped with Rangers Archival Ink (waterproof).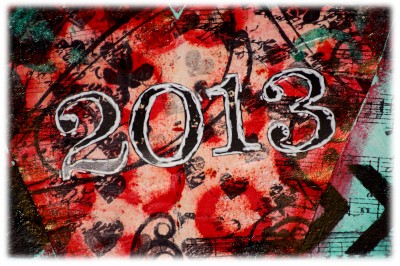 I cut out the heart from ordinary white paper. Then I used red distressink together with a stencil. I stamped some swirls and hearts on it. When I used decopageglue to seal the layer and glue the heart on the background some of the red from the distressink spread out a little, actually this was perfect because the heart was very bright white before so this helpt to melt it together with the background.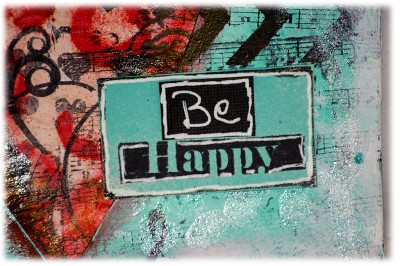 About the theme: I remind myself to be happy this year, to be happy means for me; be honest to myself, test new things, do what I want and so on. All this things together makes me happy. This is my newyear resolution to myself!
Thanks for stopping by!
Hugs/
Jeanette