This month Nathalie Kalbach has gathered a whole bunch of talented artists to get us out there more creative!! And this is superfun!! Every day one of the artist send you a little video with different things, tutorials, tips etc. The red thread is to inspire and they have succeded, I can tell you!! Here is a tag I made from a video with Heidi Swapp who teaught us how to mist and stamp within masks and stencils. This tag is my take on this: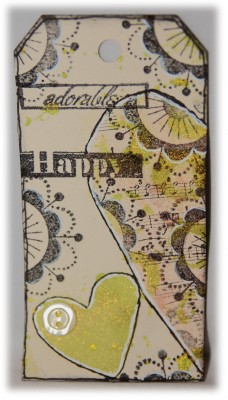 I made a heartstencil out of a paper. Then I used a stencil and a Maya Road Limemetallic mist, on that I sprayed coppermistfrom Tattered Angels, to get more effect. After it dried I stamped a couple of different stamps. On the little heart I added a button. I´m very pleased with my first take in the Creative Jumpstart 2013
Thanks for stopping by!
Hugs!
/Jeanette