A couple of days ago I was challenged by Cecilia Ekström to make a christmascard in mixed media style with the colors turqouise and brown, easy peasy NOT:) but here it is: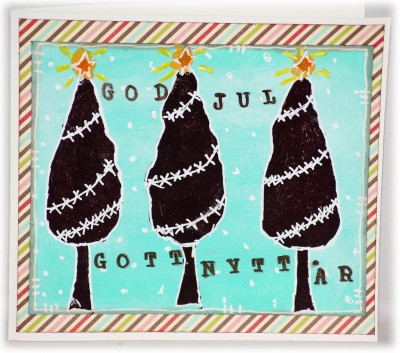 I covered a bit of cardstock with turqouise acrylic paint. On top of that I used dylusions stencil "Ooh christmas tree" . The stars are made of another dylusions stencil. I also used my yellow and orange Big Brush Pens for the stars together with acrylic paint. I used a withe pen for all the outlines and for the snow and glitter in the trees. The alphabet is this lite tiny stamps from Prima. I love how they turn out, a little awry:). The striped paper is from Jillibean Soup.
Have you done some christmascards yet? What´s your style? traditional or crazy? Mabye you should get out of your comfortzone and try something new and different this year?
Mixed media hugs
/Jeanette